27.03.2023
WHAT IS INDUSTRIAL TENT?
Industrial tents are structures designed to meet the additional space needs of industrial enterprises more quickly and economically than conventional structures. The need for additional space is present in almost all businesses with production activities. Businesses are the most suitable and economical tent systems that protect both raw materials as production inputs and products as production outputs against seasonal demand increases in order to meet new orders from their customers.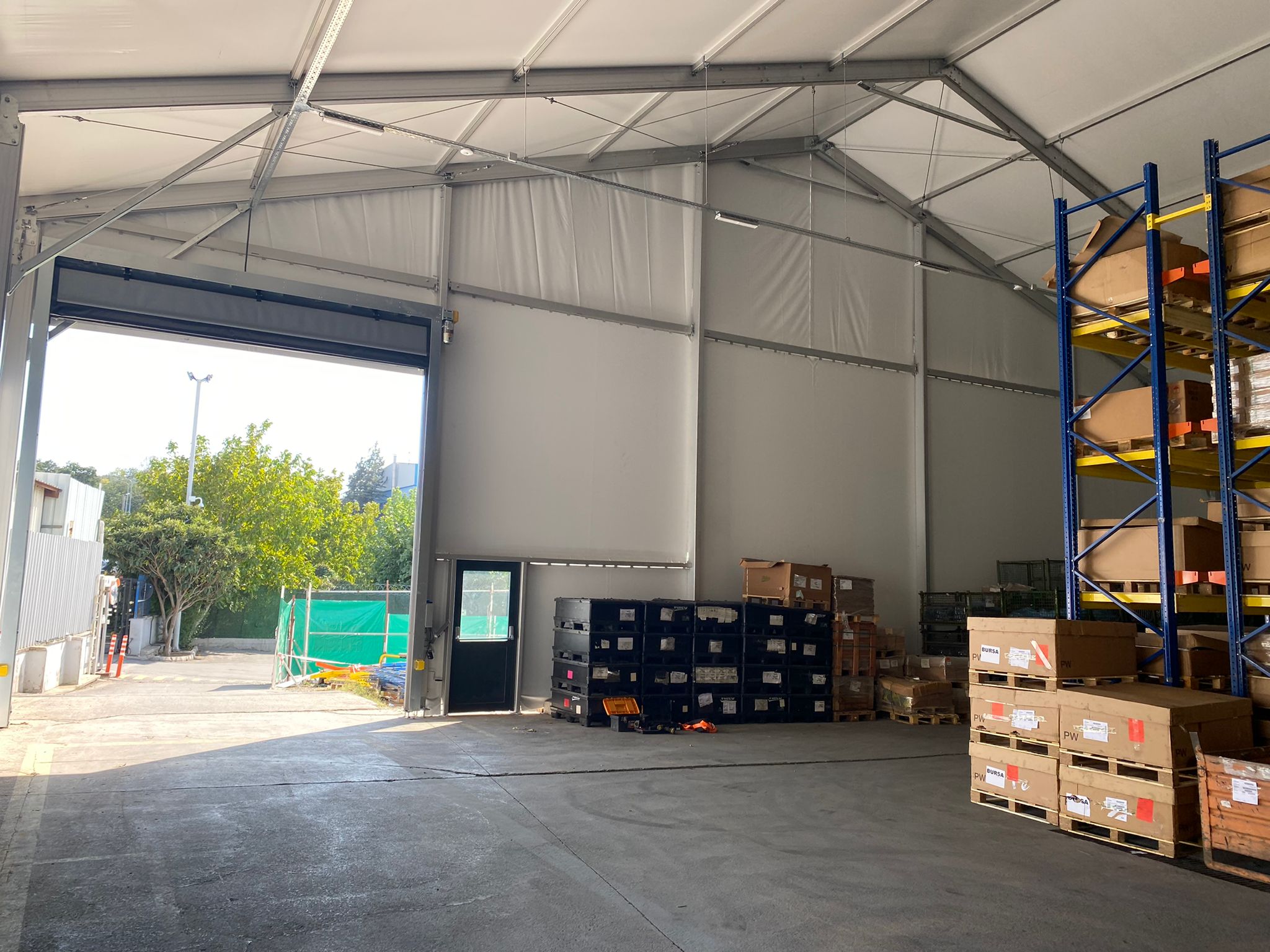 FOR WHICH SECTORS IS INDUSTRIAL TENT SUITABLE?
It is suitable for use in every industrial sector where there is production activity. There are almost no limits to the use of industrial infrastructures.
- WAREHOUSE TENTS
- PRODUCTION WORKSHOP TENT
- REPAIR AND MAINTENANCE WORKSHOP TENT
- LOGISTICS TENTS
- DINING HALL TENT
- SOCIAL FACILITY TENT
- AIRCRAFT HANGAR TENT
- COMMERCIAL SALES TENT
- OFFICE TENT
WHAT ARE INDUSTRIAL TENT TYPES?
Industrial tents are types of structures that are resistant to external weather conditions, have a light structure and covers made of technical textiles. It is equipped with many different accessories and is designed in accordance with the needs and use of the business.
Industrial tents are fast and economical solutions, but if you rush the purchasing process without designing according to your business needs and business processes, you will not get the efficiency and benefit you expect from the building.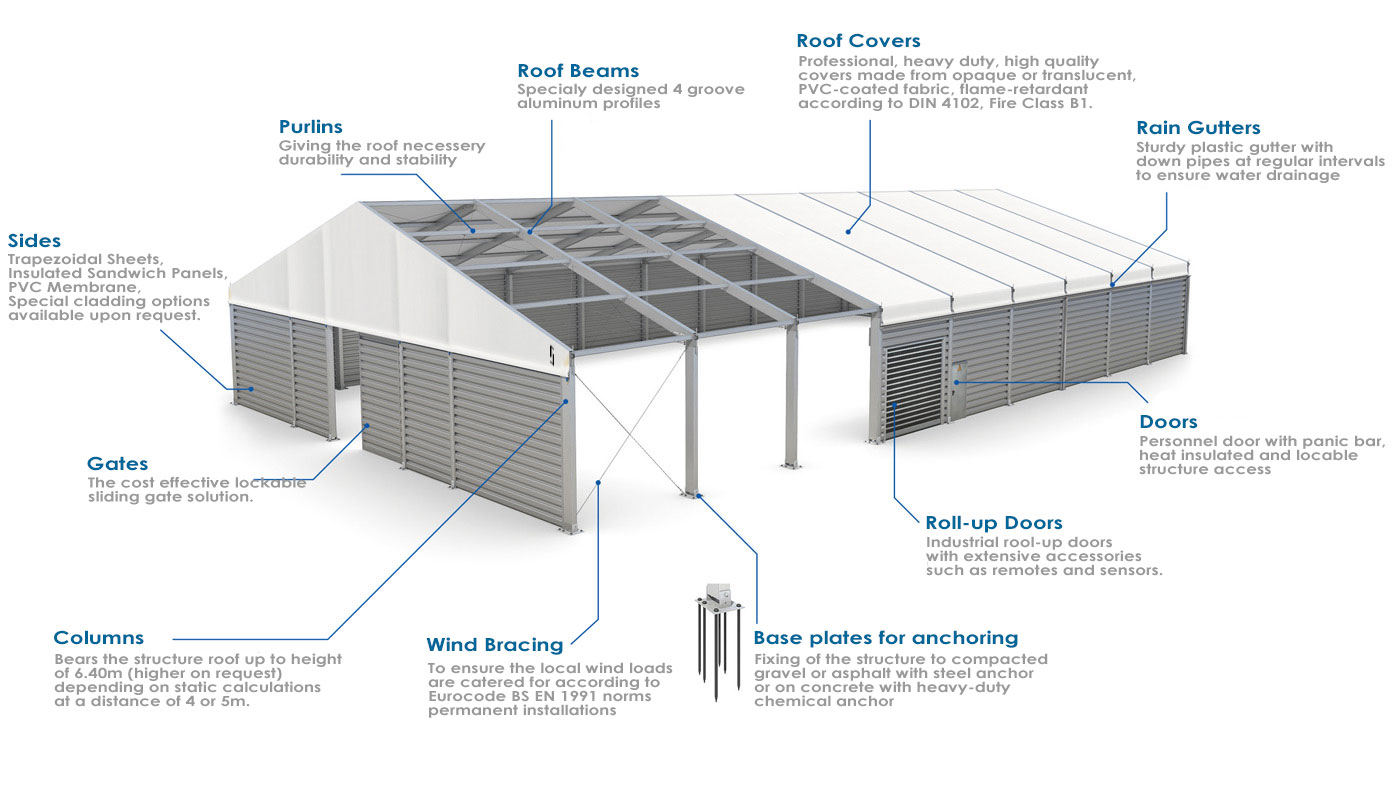 WHICH ACCESSORIES SHOULD I CHOOSE FOR THE INDUSTRIAL TENT?
You should request your Industrial Tent supplier to visit your business and conduct a needs analysis. An industrial tent designed according to the needs of your business and additional needs that may arise in the future will benefit your business for many years.
The magic formula for choosing an Industrial Tent is to ask the manufacturer's consultant to visit your business and listen to you, so that he can accurately identify your needs and recommend the most suitable accessories and equipment.
- What should be the width, length and side height of the Industry Tent?
- What kind of materials will be used for protection and storage in the industrial tent?
- Is the roof cover a single layer? Or will it be a couple?
- How should the side coating be?
- What are the ground conditions where the installation will be made? Considering a concrete foundation?
- What should be the dimensions of the service doors?
- Is natural lighting preferred?
- What are the Wind and Snow loads that should be chosen most suitable for your location?
After giving the correct answers to all these questions above, your consultant will recommend the most suitable industrial tent for you.
WHAT ARE THE MOST IMPORTANT BENEFITS OF INDUSTRIAL TENT?
Although industrial tents have many benefits for your business and operations, the most important advantages and benefits are;
ECONOMIC: They are much more economical than conventional structures. Supply Price, Assembly costs and basic needs are much more economical than other building types.
SPEED: It can be produced quickly and assembled in a very short time.
PORTABLE: Thanks to its portable feature, not a single bolt is lost in its construction and coatings.
CAN SCALE: thanks to their modular features, they can be scaled up or down to suit your future additional needs.
INTERNATIONAL STANDARDS: Your structure will always be valuable because it is produced in international standards. They protect their value and the price you will pay for many years. If you no longer need the building, you can find a buyer willing to buy the building for you, not only in the local market, but all over the world.
YOU CAN BUY OR HIRE LONG-TERM.
You can buy your industrial tent or bring it to your business with the long-term rental option. By contacting us, we can plan the most suitable option for your business together.